Have you decided to redesign your kitchen and are confused about a solid surface or a quartz countertop? Choosing the right countertop is important for your kitchen's aesthetics and functionality.
Solid surface countertops, known for their versatility and seamless appearance, have long been popular. On the other hand, quartz countertops, admired for their durability and wide range of design options, have rapidly gained popularity in recent years.
What are Solid Surface Countertops?
Countertops blended with mineral dust and various plastic resins and pigments are Solid surface countertops. Mineral dust is mostly marbling in most cases. Solid surface countertops are easy to manufacture, allowing the creation of obscurely hemmed countertops.
Dupont, in 1967, introduced the material for solid surface countertops as Corian. Today, other brands, such as Avonite and Swanstone, offer the same quality material. 
Solid surface countertops are far better than laminate countertops due to their uniformity. Solid surface countertop material is the same from top to bottom. Laminate has numerous layers, making it vulnerable to damage if the top laminate layer collapses. This damage doesn't happen with solid surface countertops. Therefore, solid surface countertops are preferred overlaminates.
Solid surface materials may give the impression of solid granite, but a close inspection may reveal their true nature. Those looking for a slab granite countertop may opt for natural stone countertops.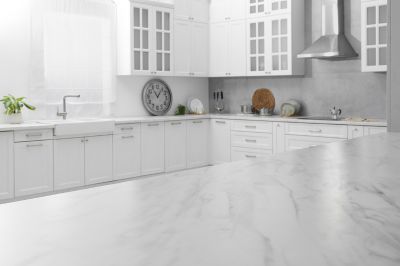 What are Quartz Countertops?
The inception of quartz countertops in the kitchen market is a recent one. Quart countertops comprise about 95% ground natural quartz blended with other materials and 5% resins that bind them together. The diverse materials that mix with natural quartz include polymers and pigments that enhance the look of these countertops.
The durability of quartz countertops is equivalent to that of natural stones. Manufacturers of quartz countertops engineer them to look like granite, marble, soapstone, and other materials. These may not be a good choice for people looking for a solid-colored kitchen countertop.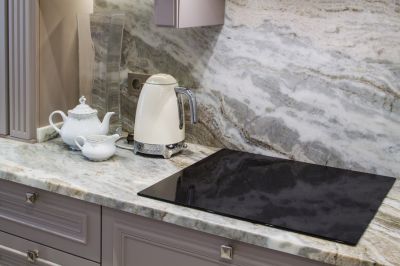 Solid Surface vs Quartz Countertops
Composition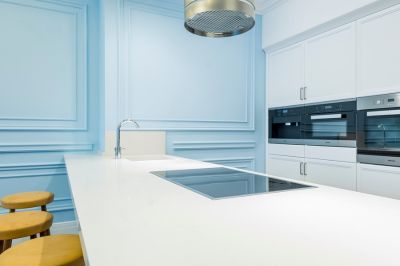 Different materials are blended to produce solid surfaces or quartz countertops. Manufacturers combine minerals and polymers to make these synthetic countertops. These may not be a choice for people looking for pure or natural materials.
Let's understand the composition of both countertops.
1. Solid Surface
The first solid surface countertop, Corian, has a composition of 33% acrylic resin (PMMA) and 66% natural minerals. The most common mineral is aluminum trihydrate (ATH), a bauxite by-product. ATH resembles baking soda due to its fine, white, powdery structure.
Solid surface countertops come in several colors. Several combinations of mineral dust and pigments contribute to its various colors.
2. Quartz
The composition of quartz countertops includes 90 to 95 percent quartz, marble, glass, and mirrors. In addition, 5 to 10 percent resin is used to bond them all together. The resins may be either cement-based or polymeric. Nowadays, a few companies use non-edible vegetable oils as a constituent in the resins.
Heat Resistance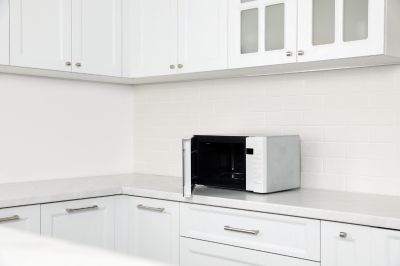 Most of the time, while working in the kitchen, it's likely that some hot item will come into contact with the countertop. Let's understand how both countertops are resistant to heat.
1. Solid Surface
These countertops can withstand temperatures of about 250 to 320 degrees F. Putting kettles and pans that are hotter than 320 degrees on these countertops will damage the countertop. The extreme heat will damage the countertop and deform it. In addition, it will also be more vulnerable to stains.
However, you can buff and repolish the material to remove the stains and restore their appearance.
2. Quartz
Quartz countertops can withstand temperatures of about 680 degrees F. Anything surpassing this degree of temperature in the kitchen is impossible. Theoretically, these countertops may catch fire if they are in an area with very high temperatures. But again, reaching such a temperature in a kitchen environment is rare—almost zero.
Seam Visibility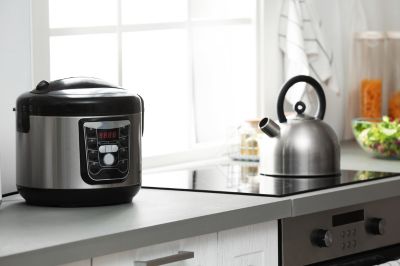 It's essential to have diagonal seams at L-shaped bends on both countertops. For the long, straight stretches, having long pieces of each material is best to bypass seaming.
1. Solid Surface
It's hard to identify the seams on solid surface countertops. The adhesive that bonds the material creates tight seams.
2. Quartz
On quartz countertops, you get concealed seams. However, despite being visible, it's hard to find them. Seam visibility for both solid surfaces and quartz is the same.
Scratch Resistance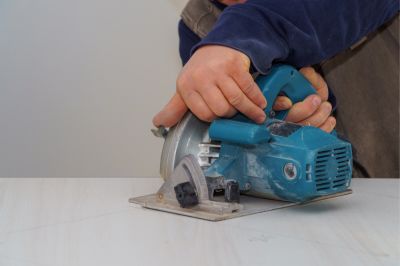 Any countertop is prone to scratches. And the appearance is awful. If you don't want scratches on your countertop, it's crucial to understand the scratch resistance of solid surfaces and quartz countertops.
Accordingly, it will help you narrow down the appropriate countertop.
1. Solid Surface
Solid surface countertops aren't strong. They are vulnerable to scratches. Avoid cutting on these countertops. However, you can prevent scratches by using a cutting board and avoiding direct contact with the countertop.
The good part of a solid surface countertop is that you can polish it again to erase any accidental scratches and smooth up the countertop.
2. Quartz
Quartz countertops are more resistant to scratches than solid surface countertops. Their durability stands second to stones like diamond, sapphire, topaz, etc.
However, it doesn't mean they can't have scratches. You can deal with minor hairline scratches by buffing them with cream wax polish. However, it's less effective than polishing with sandpaper on solid surfaces.
If there's a deep scratch on the Quartz countertop, you may need to involve a countertop specialist to get it in good shape again.
Maintenance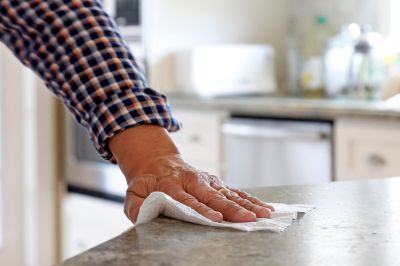 Maintenance is mandatory for all the things we buy. So it goes for these countertops too. Let's understand how to keep these countertops in good shape for longer.
Related: What is the effect of oven cleaners on countertops?
1. Solid Surface
Due to the non-porous nature of these countertops, you can skip sealing. You can prevent bacteria or fungus growth by wiping it with a disinfectant. You don't need to put in hard work to maintain the hygiene of these countertops.
But, since these countertops fade over time, regular polishing by countertop specialists may keep them in good shape longer. However, by doing so, the countertop eventually loses its thickness.
Keep harsh chemicals away from these countertops, as they may damage them. Don't use nail polish, oven cleaners, paint removers, thinners, or strong chemicals near solid surface countertops. A tiny accidental spill is enough to damage it.
2. Quartz
These countertops are also non-porous. Hence, here, you can skip sealing them. However, these are more robust than solid surface countertops. You can apply the same methodology of wiping with a disinfectant to keep the bacteria or fungus away. 
Less maintenance on these countertops makes them a preferred choice among households and working employees.
Should You Buy Solid Surface or Quartz Countertops?
Still, deciding whether to buy a solid surface or quartz may be tough. The following summary might help you zero in on the appropriate countertop.
To summarize, solid surfaces are more affordable than quartz ones. However, they are more vulnerable to scratches. Quartz, on the other hand, is more durable, and the hardness level is second to natural stones like diamonds, sapphire, etc.
Solid surfaces may give your kitchen a contemporary look. You can thermoform these countertops or reshape them into a curvy or floating look, which isn't possible with quartz.
Solid-surface countertops come with a friendly budget for redesigning your kitchen.
Quartz countertops give you the liberty to give your kitchen countertop a stone-like appearance. Quartz is 33% heavier than a solid surface, giving a sense of sturdiness after installation. Another benefit of quartz countertops is that they have a good resale value.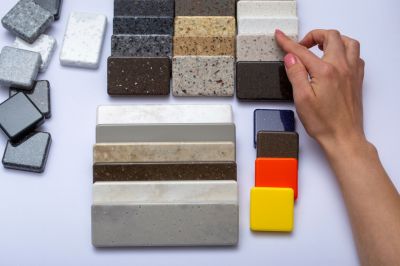 What is better solid surface or quartz?

Those wishing for designer countertops can go with solid-surface countertops. Those wanting a stone-like appearance with fewer designer options can opt for quartz countertops.

Is solid surface countertops the same as quartz?

Solid surface and quartz countertops are made of non-porous materials and are used for kitchen countertops. That's the similarity. However, they differ in their properties to resist heat, scratches, maintenance, cost, durability, and several other factors that differ from each other.
Conclusion
Understanding the pros and cons of every material that goes into making kitchen countertops is vital. We've done an in-depth analysis of solid surfaces vs. quartz countertops. 
The outcome of this discussion brings forth the fact that quartz countertops are more durable than solid-surface countertops. However, those looking for colorful and elegant countertops can go for solid-surface countertops.