The words acetate and triacetate reflect more of a chemical compound than a fabric. Acetate and triacetate are synthetic fabrics that serve as ideal alternatives to silk for creating affordable textiles. Acetate is a popular and preferred material for lining coats, jackets, skirts, and suits. Washing acetate with water is terrible since it becomes weak when wet. We recommend dry-cleaning acetate for its longevity.
Triacetate has a similar appearance to acetate. However, you can crease and pleat it crisply, thanks to its lower sensitivity to heat. Triacetate is a material used in jerseys, taffeta, and textured knits.
You can wash acetate and triacetate clothes at home, too. To achieve the best results, you need to be extra careful and add a bit of discipline to prevent damaging your garments.
Cleaning Overview
Working Time: 30 to 60 minutes
Total Time: 12 to 24 Hours
Skills Required: Beginner
Estimated Cost: $10
What Will You Need
Supply
Mild detergent
Baking soda (optional)
Tools
Washing machine
Mesh laundry bag
Drying stand (optional)
How to Wash Acetate and Triacetate Clothes
Acetate and triacetate are delicate, so you must be extra vigilant while washing them. The steps given below will help you clean them appropriately.
Step 1: Read the Care Label
You must understand the washing instructions on the care label to get great results. Dry cleaning is preferable to washing to retain the garment's form. Individuals with zero or less experience in laundry, or in the case of an expensive garment, must send the clothes to dry cleaning without any second opinion.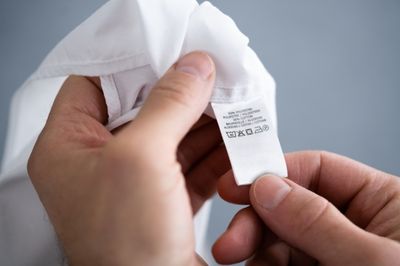 Step 2: Place Clothes in Mesh Bag
Putting acetate and triacetate clothes in a mesh bag is a safe bet. Else, you may be at risk of these garments hooking to zippers or decorations of other clothes if placed with them. Before putting the garment into the bag, ensure you have turned it inside out. This action affirms extra protection.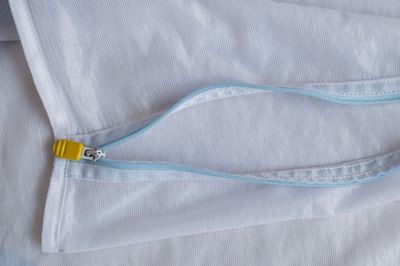 Step 3: Wash in the Washing Machine
It's not a good idea to overload the washer while washing clothes made of acetate and triacetate. To maintain the acetate and triacetate structure, you must avoid high agitation and spinning at high speeds. Set the machine to a gentle cycle with cold water on the low-speed spin cycle.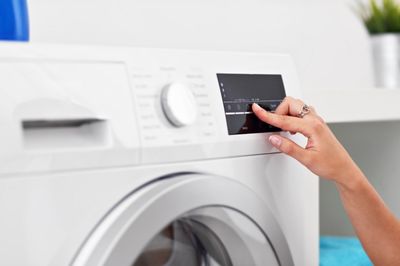 Step 4: Air Dry
Allow the clothes to air-dry on a drying stand. Alternatively, you can place them on a flat, clean surface. Never use the washing machine's dryer. The heat from the dryer may shrink the garments.
Related: Minimum temperature for drying clothes outside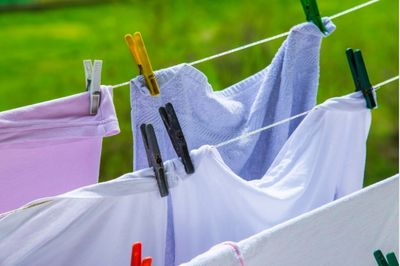 Additional Tips for Washing Acetate and Triacetate Clothes
The following tips will help you wash acetate and triacetate clothes, helping to retain them with you for a long time.
Exposure to any heat may result in the melting of acetate. Acetate is a weak fiber; therefore must be kept away from all types of heat or similar environments.
You may have a garment with acetate linings. Though the garment can be hand-washed, you must send it to dry cleaning for proper and safe cleaning. It will help you to retain your garment for a longer time.
You can hand-wash or dry-clean pleated apparel made from triacetate.
Avoid starch usage on acetate.
Your tailor can repair worn-out acetate areas under the arms of the suit or coat linings with new patches. Or, the tailor can remove the old acetate and stitch the new lining entirely.
Are you wondering can dry clean shrink clothes? If yes, then you must read: Does Dry Cleaning Shrink Clothes
How to Remove Stains from Acetate and Triacetate Fabric?
Removing stains from acetate and triacetate fabrics requires a specific approach. You can remove stains caused by coffee, ink, or makeup with specifically designed stain removers.
Soak the clothes in cold water and 1 cup of baking soda to remove odd smells. Then wash the clothes as the care label says. Avoid removing stains by using nail polish remover (acetone) or an organic solvent (turpentine). Acetate and triacetate fibers dissolve when they come in contact with these materials. You may end up damaging the garment permanently.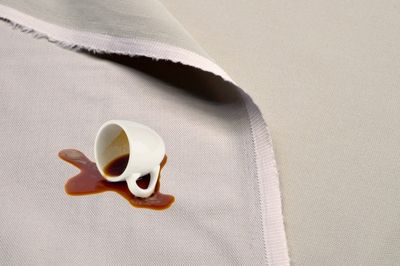 How to Care for Acetate and Triacetate Clothes?
By taking appropriate care of acetate and triacetate clothes, you can keep them in good condition for a longer duration.
Avoid mingling acetate and triacetate clothes with water for a long time. You may notice water stains on the acetate. In addition, it may also result in bleeding the color of the garment.
Keep acetate and triacetate clothes away from all staining materials. Though this rule applies to regular clothing also, acetate and triacetate are more prone to develop stains, and even alcohol may cause stains on your acetate and triacetate fabrics.
Avoid using chemical solvents to clean the stains. It may damage the fabric.
Avoid cleaning the clothes in hot water.
Direct sunlight may damage acetate and triacetate clothes. Avoid exposing them to sunlight for longer times.
A tear in any acetate or triacetate is repairable. Just prune or pleat any tattered split edges and pinch or pin using a needle and thread. Cover extra over the torn area and stitch it with finesse. You can ignore the looks of the stitchwork as it's on the interior of your clothing.
Know More About Acetate and Triacetate
Acetate and triacetate have slight differences, though they are closely related. Triacetate is an improved adaptation of acetate with better properties. Both are processed differently. Let's get some extra information on both.
Acetate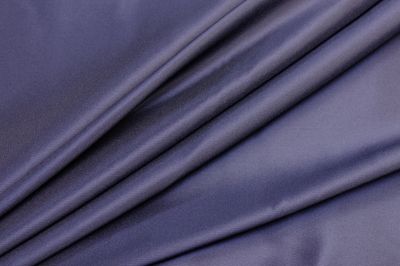 Cellulose or wood pulp is the primary raw material behind the creation of acetate fiber. Initially, it served as a coating layer for airplane wings in Europe. However, in 1924, Celanese Corporation from the United States started acetate production as a fabric.
What is Acetate Fabric?
Acetate fabric features a luxurious feel and look. In its purest form, it is highly delicate, requiring cleaning only by hand. However, manufacturers create garments by blending acetate with other fibers to gain durability. These fabrics can be machine washable.
Initially, dye bleeding would happen with acetate. However, experts worked on dyeing the raw fibers instead of coloring the finished fabric. This solution worked like magic, enabling color stability.
Related: How to Clean a Tie
What is Acetate Fabric Used for?
Producing acetate is less expensive than other fibers because it's made from wood pulp, which is plentiful. However, since the wood pulp isn't durable enough, acetate shares similar traits too. That's why they are used in the linings of coats and suits, jerseys, and short-term events such as graduation gowns, party dresses, or blazers. It also contributes to making neckties, scarves, and ribbons that are rarely worn. You can also find drapery and home furnishing material made with acetate fabric.
Is Acetate Fabric Natural or Synthetic?
Acetate fabric is a synthetic material.
How to Iron Acetate Fabric?
Iron the acetate fabric while keeping the iron's temperature at the lowest setting. Place a clean cloth between the fabric and the iron to avoid the risk of melting the fibers, holes, and shiny areas. Iron the fabric when it is damp and turn it inside out.
Related: How to iron dry clean only clothes?
Can You Steam Acetate Fabric?
Steam pressing is the worst option for acetate fabric. Do not use the steam setting of your iron on your acetate clothes.
Can You Dye Acetate Fabric?
You can dye acetate fabric but it's a tricky process. We recommend you dye your acetate fabric from a professional.
Is Acetate Fabric Breathable?
No, acetate fabric is not breathable.
Triacetate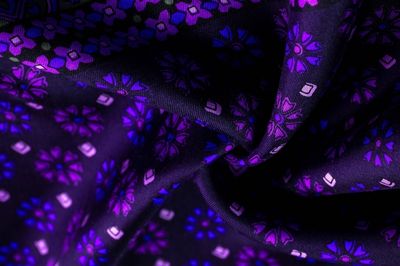 Acetate was modified to create triacetate by the same company, Celanese Corporation. The proportion of cellulose is lower in triacetate than in acetate, making it more resistant to high agitation and heat with no adverse effects on the fibers. Wrinkle formation is also less in triacetate.
What is Triacetate Fabric?
Triacetate is produced by treating cellulose with a mixture of acetic acid and acetic anhydride, followed by a second treatment with acetic anhydride alone. This creates cellulose triacetate, which is then dissolved in a solvent and extruded into fibers. Triacetate can also be made in vibrant colors and isn't resistant to fading.
Triacetate fabrics are durable and can be machine washed with regular detergent in cold water and tumble-dried on low heat without losing their shape or texture.
What is Triacetate Fabric Used for?
Triacetate fabric is used in making dresses, garments, jerseys, skirts, textured knits, taffeta, and sportswear, where keeping permanent pleats is crucial.
How to Iron Triacetate Fabric?
Unlike acetate, you can iron triacetate fabric at medium to high temperatures. However, it may ruin the fabric, so the ideal option is to iron at low temperatures to be safe. Remember to have a pressing cloth between the iron and the fabric.
Related: Iron temperature settings.
Is Triacetate Fabric Breathable?
Yes, triacetate fabric has more breathability. It is comfortable and skin-friendly. It may remain fresh and dry despite your sweating.
Related: What are the Different Types of Synthetic Fabrics
What are the disadvantages of triacetate fabric?

Despite being wrinkle-resistant in most situations, triacetate fabric easily wrinkles when wet. You cannot steam-iron triacetate fabric.

Triacetate doesn't shrink, as the fibers are already heated and pre-shrunk at the factory before despatch.