Cleaning the oven can be messy. Mostly, it's because you want to save yourself from the hazardous fumes of the chemicals. What if you could find a way to avoid these risky chemicals and find a natural way to clean your oven?
Of course, you will like it, as it's a sure way to prevent toxic compounds from entering your food. Yes, there are ways to keep the hazardous chemical agents away and deal with oven cleaning in a much safer way.
Homemade Oven Cleaner with Dawn
Did you know you can make a homemade oven cleaner with Dawn with DIY methods? It's simple and affordable, too. You will find most ingredients within your reach that help make this cleaner. Mainly, they are right below the kitchen sink or in the kitchen.
Let's understand the different methods to create your homemade oven cleaner with Dawn.
1. Dawn and Baking Soda
Mixing baking soda with Dawn is the easiest and best way to clean your oven. Baking soda removes filth and glop from most metals without leaving a scratch on their surfaces. It also helps to neutralize any rotten odor, giving off a fresh fragrance.
Baking soda dissolves the greasy elements while cleaning the oven effortlessly due to its alkaline pH.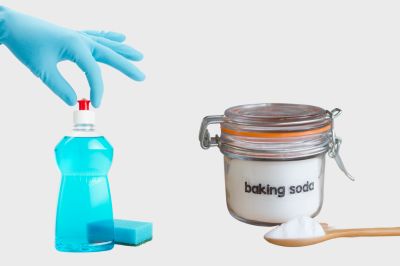 Materials Needed:
3/4 cup baking soda
1/2 cup warm water
Dawn dish detergent
Spray bottle
Piece of clean cloth
Steps:
Mix baking soda with warm water to create a paste.
Smear this paste all over the interior surface of the oven or the stove surface. Alternatively, you can spray the inside of the oven with water using the spray bottle. Then spatter the baking powder all over it. However, applying the paste helps you clean your oven better, as you can reach most of the parts while smearing the surfaces.
Allow the paste to settle in the oven for a night or 10 to 12 hours. It helps to break down the deposited filth.
Now, it's time to remove the thick paste. Use a damp cloth or clean sponge dipped in liquid dish detergent to remove the paste.
You will notice the filth being disappeared from the oven's interior side. If there's still some filth, use Dawn dish soap to remove the remaining.
To clean the glass oven door, change the proportions of the materials for effective cleaning.
2. Dawn and Vinegar
Dawn mixed with vinegar makes an ideal cleaning solution. Vinegar is a powerful disinfectant; many use it as a multi-purpose cleaner for most house-cleaning tasks. Vinegar uses acetic acid to fight the grease and foods stuck on the surfaces of the oven.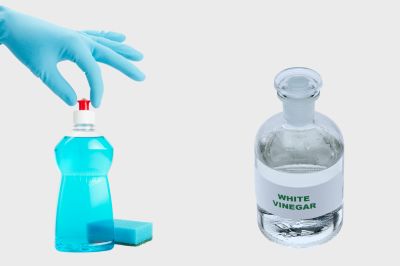 Materials Needed:
16 oz dish soap
16 oz white vinegar
Spray bottle
Steps:
Fill a large spray bottle with a solution of dish soap mixed with white vinegar.
Spray this solution on the inside of the oven.
Allow the inside of the oven to soak in this solution for several minutes.
Then rinse it with clean water and wipe it dry.
Alternative Steps:
Alternatively, you can add baking soda to this cleaner made of vinegar and dish soap.
Make the baking soda paste, as mentioned above in "Dawn and Baking Soda."
Repeat the same procedure of applying the baking soda paste.
Spray plain vinegar before you clean the oven with dish soap the following morning or after 10-12 hours.
It helps to react with the baking soda and effortlessly cleans the oven with dish soap.
Use this method to degrease kitchen cabinets, counters, and floors. It's wise to be ready to keep the solution handy to clean anything if you encounter a grease spill accidentally.
3. Dawn and Lemon Juice
Mixing lemon juice with Dawn is another method to prepare natural oven cleaners. The effectiveness of this cleaner isn't less than that of one made with vinegar. The extra benefits lie in its 10x better smell. There's no hindrance to oven cleaning when using a solution with one of the best cleaners available.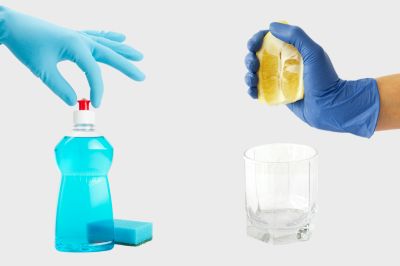 Materials Needed:
4 tablespoons baking soda.
4 drops of Dawn dish soap.
3 tablespoons lemon juice.
4 tablespoons vinegar.
Steps:
Combine baking soda, Dawn dish soap, and lemon juice in a small container.
Blend them thoroughly.
Slowly add vinegar to the mixture at a ratio of one tablespoon at a time. (it prevents the bursting of bubbly mess. Else you will have to deal with it by cleaning all the messy solution that erupts during vinegar addition.)
Apply this paste over the oven surface.
Allow it to sit and soak for a night or 10-12 hours for effective results.
Then clean it up using a damp cloth or paper towel.
Rinse the oven and let it dry.
4. Dawn and Lemon Essential Oils
Adding lemon essential oils to Dawn is another effective ingredient to prepare your homemade oven cleaner. The lemon essential oil has all the qualities to degrease any material excellently.
It is wise to use lemon essential oil with baking soda, which has alkaline pH levels. Do not use vinegar, as it is actually acetic acid. The citric acid from the lemon essential oils penetrate grease and grime to break and remove them.
Oranges and other citruses also have citric acid. You can use essential oils produced from these plants as an alternative to lemon essential oils.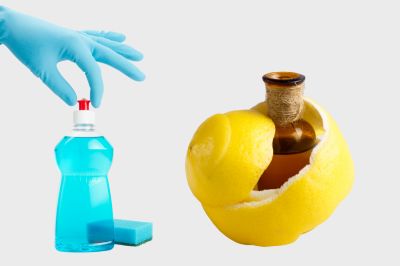 Materials Needed:
1/2 cup baking soda
1 tablespoon coarse salt
3/4 cup liquid dish soap
Lemon essential oil – 5 drops
Steps:
Create a thick paste with the above ingredients.
Apply on the inside of the oven.
Ensure to apply a thick layer of the paste.
Allow it to settle for a night or 10-12 hours.
Remove the dry paste with damp towels or a sponge.
Flush off any remaining dry cleaner with clean water.
Allow the oven to dry naturally.
5. Dawn and Borax
Borax is another beneficial tool to rely on when you want to produce oven cleaner with Dawn. Borax, as you know, is a multi-purpose that you can make at home. It works well as a deodorizer and an insecticide.
Borax features similar properties to baking soda, effectively removing filth and muck.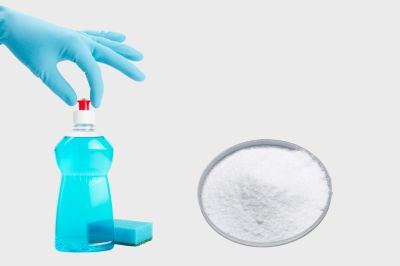 Materials Needed:
3 tablespoon Borax
1/4 cup distilled white vinegar
1/8 cup of Dawn liquid dish soap
2 cups hot water
Steps:
Mix all the ingredients in a big spray bottle.
Dampen the walls with this oven cleaner and allow it to settle for a night or 10-12 hours.
Add a small amount of baking soda over the top layer once you dampen the oven walls with the cleaner.
In the morning or after 10-12 hours, remove the dried paste with a damp cloth soaked with warm water.
Ensure you clean all the residues of the cleaner.
Rinse the oven with warm water and allow it to dry entirely.
Precautions to Take
Whenever you DIY, it's crucial to follow a specific set of precautions before you begin. The following tips will help you keep in good shape while creating your natural oven cleaner. It will also keep you in a joyous mood throughout the process.
Always wear gloves for skin protection and to block dirt inside the fingernails.
Remove stuck food particles using a spatula. It helps you prevent your oven from any accidental scratches. A spatula helps you to gently remove the stuck food particles on the inside of the oven.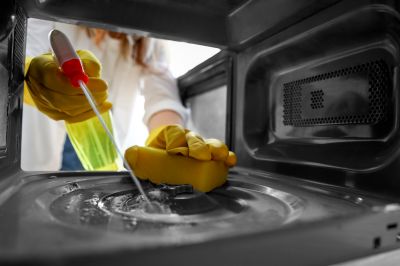 Can You Use the Same Recipes to Clean Heating Elements and Oven Racks?
Not necessarily. The above cleaners do deep cleaning. Heating elements and oven racks don't require such deep cleaning. Removing these items before cleaning is the best option. It helps you to clean these items appropriately. In addition, it gives you convenient access to the oven's bottom.
1. Heating elements
It's simple to clean the heating elements. They are self-cleaning. Not to be taken as having a self-cleaning oven to clean the heating elements. But, the food residues and grease burn away due to the regular heating of the oven.
2. Oven racks
Place the oven racks above the towel layers in your bathtub after removing them. It will prevent the scraping of your tub's bottom. Mix dishwasher detergent or powdered laundry with hot water in a bowl. Pour this solution into the tub. Alternatively, you can use Dawn, which breaks the grease effortlessly.
It's crucial to submerge the oven racks completely. Set the water level accordingly. Add a few sprinkles of a pure, powdered detergent that acts as a gentle scrub.
Conclusion
Cleaning ovens with solutions that contain chemicals is hazardous. And it isn't required when you have safe options to clean it with natural cleaners. You can easily make environment-friendly oven cleaners from the comfort of your home.
You can easily make homemade oven cleaner with Dawn liquid dish soap and natural ingredients like baking soda, lemon juice, essential oils, or borax. All these ingredients are easily available. You can create your own organic oven cleaner by mixing any one of these ingredients with Dawn.
This cleaner ensures your safety and hygiene, as there's zero possibility of hazardous fumes entering your oven and your food.
Related: What is the effect of oven cleaners on countertops?